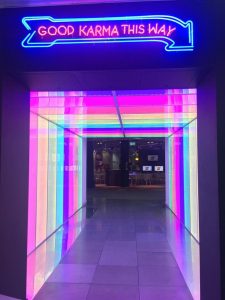 The latest chapter in our Future Creatives programme took place in the heart of London at the
Karmarama creative agency, where we took 25 young people for a crash course in the world of
advertising!
Costa, Iceland and Honda… these are just some of the huge brands that Karmarama have worked
with, so who better to inspire our Future Creatives? The students were mentored by 7 Karmarama
staff members who shared their experiences of the creative industry, including gold dust tips on how
to get how to get your foot in the door from creative duo Paddy Paddison and Joe Moloney.
For the final part of the day, students got stuck into a workshop with the human experience team
and learnt about the Karmarama Kadets work experience scheme. Everyone was keen to apply and 8
will be chosen for work experience placements as part of the pilot scheme. We wish the lucky 8 all
the best!
Are you a student, teacher or creative professional? Want to get involved with our workshops? Get
in touch here: ideas@ideasfoundation.org.uk