Ideas Foundation partner with brand experience agency onepointfive to offer a one-day intensive workshop to students at The Global Academy.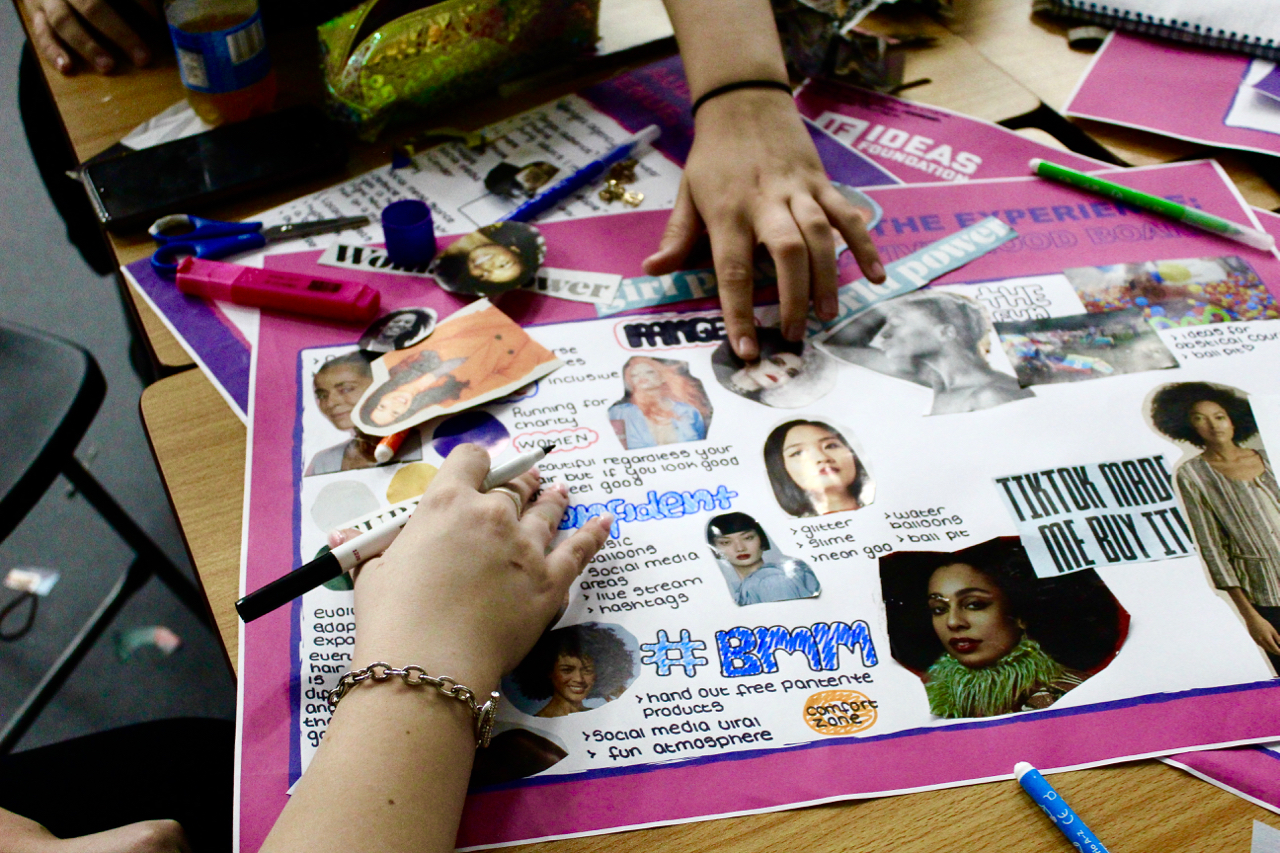 The aim of the workshop was to give Year 10 students an introduction to brand experience and an insight into different roles in the events industry. An in-school industry day like this gives students the chance to work face to face with employers and industry experts for the first time this year. They also had the opportunity to work on a live industry brief, designed to give students a taste of what it's like to work in an experiential marketing agency.
The brief
The brief was to design a brand experience for haircare brand Pantene, that encourages the public to think about the power of hair and to tackle hair discrimination.
As part of their 'Power of Hair' campaign, Pantene recently launched the 'My Hair Won't be Silenced' campaign, with the aim of reducing microaggressions against afro hair. According to a study by Pantene, 93% of Black people in the UK have faced microaggressions in relation to their hair, but only 7% of people without afro hair could recognise common microaggressions. Of the students attending the workshop, 40% said they had not heard of hair microaggression before.
Maeve Leonard, Marketing Manager at Pantene, therefore prompted students to think about how we can reduce hair discrimination, by raising awareness and educating the public on microaggressions relating to hair. Maeve also encouraged students to think about the effect hair can have on our mental health and wellbeing, to design an event that would celebrate hair confidence for all types of hair.
The students had to incorporate these ideas into their brand experience and by the end of the day, 93% of students said they had learnt more about hair microaggressions.
The task
To design their brand experience, students formed agencies in small groups and with guidance from onepointfive, they were asked to consider:
• the audience
• the venue and location
• a floorplan
• the budget
• health and safety
• social media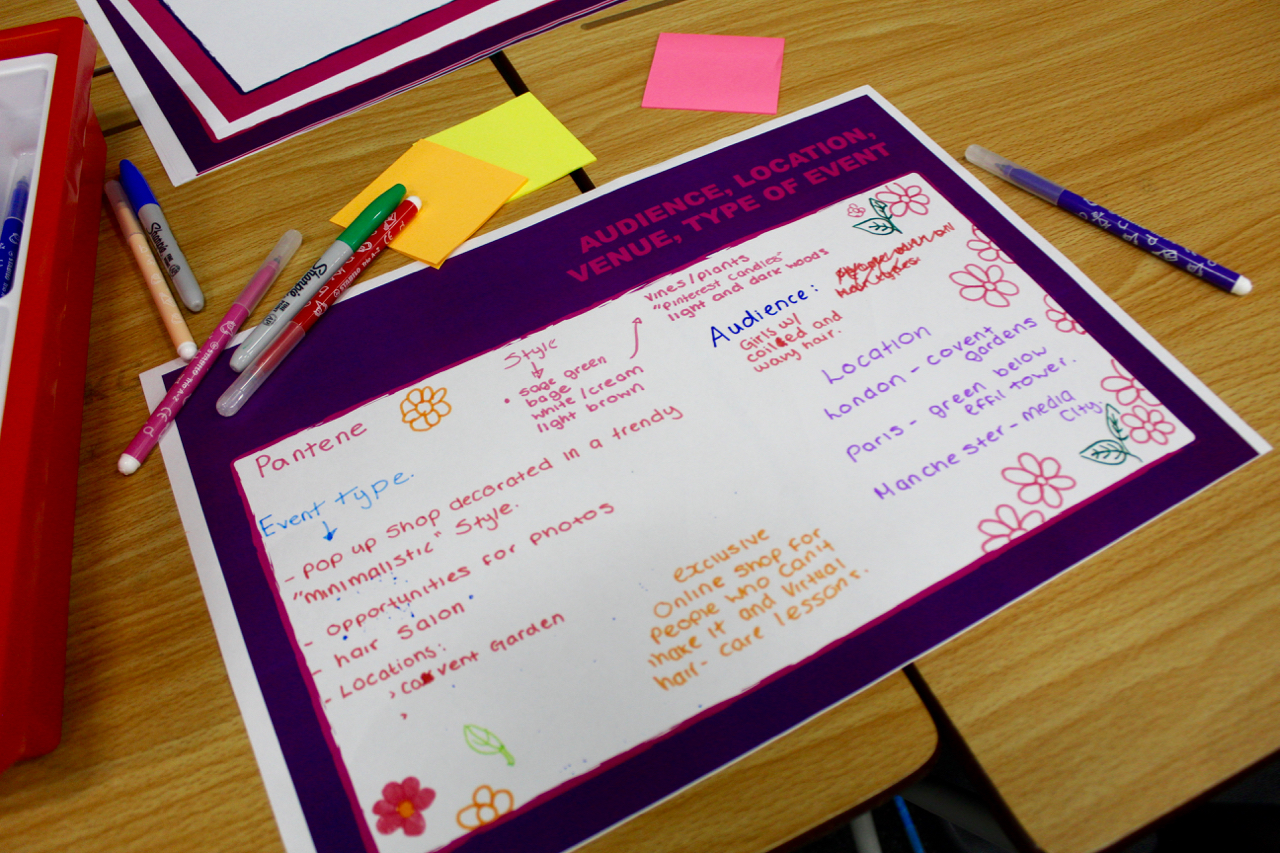 Students presented their final ideas to their peers and industry experts from onepointfive, providing an overview of their brand experience and how they had incorporated the Power of Hair campaign in response to the brief.
The workshop enabled students to develop their employability skills, such as teamwork and presentation skills that are all too important in the creative industries.
"One group has come up with an experience that is similar to real life events that we have created using photo booths, props. They are going to use GIFs and photos that they can post on social media so showing an event can work across different platforms." – Holly Brownlees from onepointfive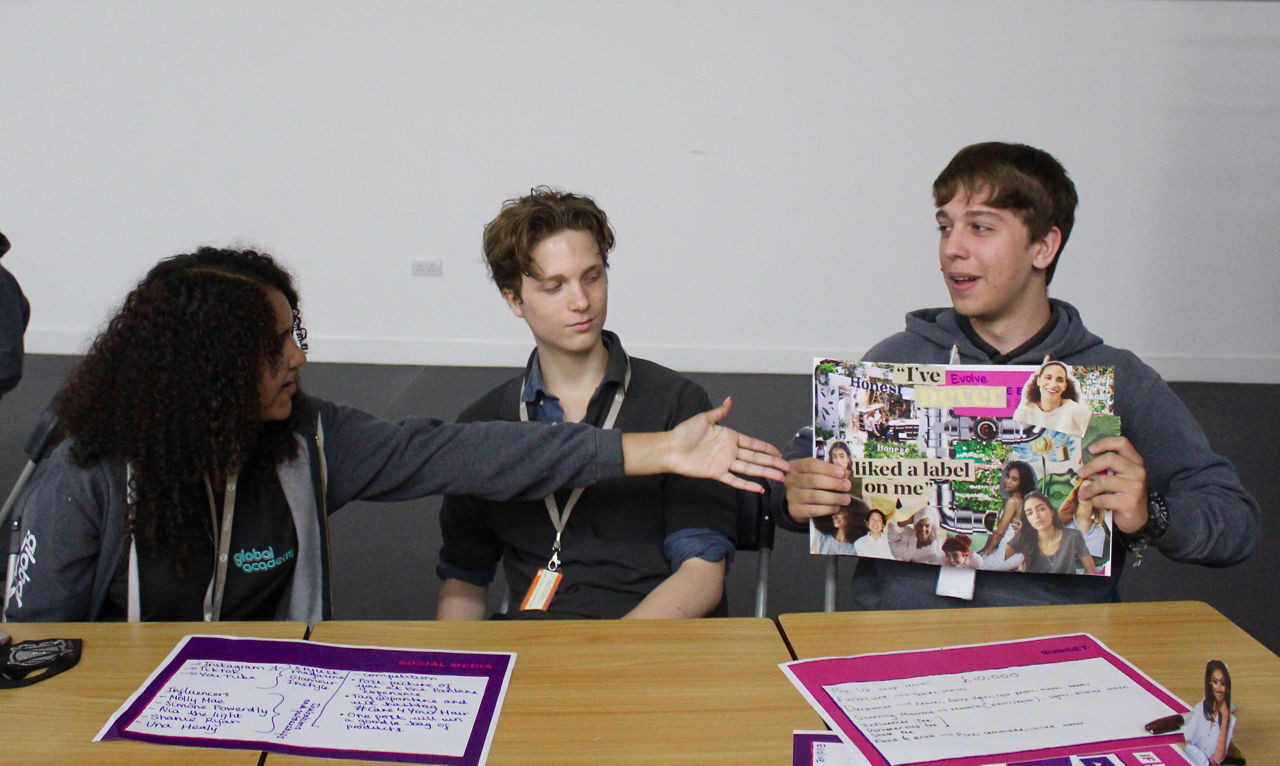 "It's about team work and co-operating with people that we don't normally co-operate with. It's energetic." – Year 10 Student from The Global Academy
The result
By the end of the day, 93% students said they had a better understanding of brand experience, with 84% of students stating they would consider a career in the events industry.
Workshops like these offer young people the opportunity to learn more about the different roles that exist in the creative industries, so they have a better understanding of how different roles form a team that can bring an idea to life.
"We are giving a real life example to inspire students to understand the events industry. We have had a chance to talk about the different roles and tasks within the industry. We have given them a chance to work on a 360 approach to the brief – from concept to the delivery." – Joel Barsch from onepointfive
Read more about the Global Academy industry day here
Discover our partner agency onepointfive
Find out more about our other workshops at The Global Academy, in partnership with Disrupt Space and Canon here