2 schools from West Cumbria (Whitehaven Academy and Beacon Hill Community School) have kicked off the new academic year with an innovative digital storytelling project.
This is a partnership programme between Canon, Sellafield, Ideas Foundation and the National Association of Teaching of English. The programme is designed to inspire educate and empower young people. It provides students with a chance to develop their communication skills, learn about creative careers and create digital stories using Adobe software.
Canon Ambassador, Clive Booth led photography masterclasses during one-day workshops for Year 7 and Year 8 students. Clive has created images for London Fashion Week, Aston Martin and other high-profile companies.
"This is a wonderful opportunity for students to show their creative talents. We are excited to see students from West Cumbria rise to the challenge." – Heather MacRae, Ideas Foundation
9 creative professionals have joined the workshops as mentors from and Canon and Edge Gain. Students are encouraged to consider the power of images and words. For many students this is the first opportunity they have had to work face to face with external professionals since the pandemic.
"During Covid we have really missed out on inspirational hands-on creative opportunities. It is refreshing to see students rising to the brief to create digital stories about climate change." – Adam Young, Deputy Headteacher at Beacon Hill Community School
The students' work will be shared with the United Nations and on social media platforms. Astronaut Richard Garriott, President of the Explorers Club in New York will also take the work to the Antarctic with him, as part of his campaign to shine a light on the challenges affecting the planet.
The brief
Over 120 students aged 11 – 13 were challenged to create inspirational campaigns using images and words to help audiences understand the UN Global Goals for Sustainable Development – in particular Goal 12 and 13, responsible consumption and climate change.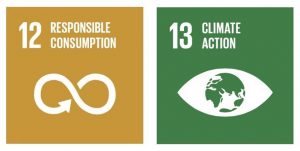 "We want to help young people to tell the stories that will change how they see their potential but also will also be enabled to use cameras to explain how they can help improve life on our planet." – Adam Pensotti, Canon
Examples of student work: