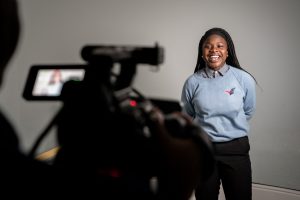 This time last year we joined forces with the Burberry Foundation to kick off Burberry Inspire, the
first in-school arts and culture programme of its scope and scale. Together with Leeds Playhouse,
Leeds Young Film, Northern Ballet and The Hepworth Wakefield we pledged to provide immersive
arts and culture education to thousands of 11 – 14-year olds in Yorkshire over four years.
We're now just one year in and Burberry Inspire has already positively impacted the lives of over
4,000 students, giving them an in-depth experience of arts and culture, from dance and theatre to
filmmaking and sculpture. And we wanted to celebrate! So, to mark the first year of Burberry
Inspire, Leeds City Museum was transformed through a series of dance, art, theatre and film
performances by secondary school students from across Yorkshire who have benefitted from the
programme.
Over 100 11 – 14 year olds from eight schools showcased the creative work they have prepared
over the last year with support from a dedicated Artist in Residence. The performances also told the
story of the positive impact learning with Burberry Inspire has had on their lives. But for those of
you who weren't able to see the showcase, Luke, a Year 9 student at University Academy Keighley
sums up his experience:
"It now makes me really happy at the end of Friday, because now I can come to the drama club and
do what I love and what I'm really passionate about. I would like to be a stage actor or a film actor
and Burberry Inspire will help me achieve that with the afterschool drama clubs. Burberry Inspire
has also helped me in other lessons, whether doing presentations or reading work in front of class
mates."
Here's to another fantastic 3 years of Burberry Inspire!
Find out more about Ideas Foundation here: https://www.ideasfoundation.org.uk/
And more about Burberry Inspire here: https://www.ideasfoundation.org.uk/content/news-and-
achievements/burberry-inspire/