20 talented emerging Blacks artists from Disrupt Space, a Brixton-based artists collective, aim to disrupt the world of cultural elitism in the art market, using art and technology to reach new audiences.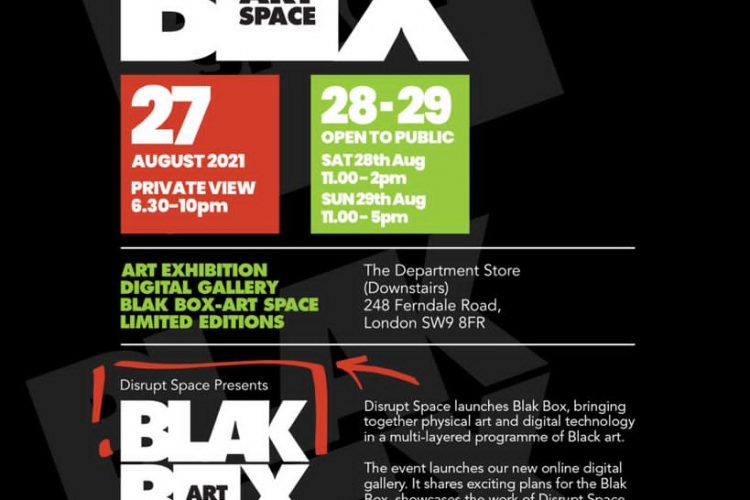 On 27th – 29th August, Disrupt Space will be holding a BlakBoxArt exhibition at the Department Store, Brixton, which will see the release of a virtual gallery using augmented reality technology, as well as a fine art exhibition.
BlakBoxArt brings together the digital and physical to create a hybrid gallery experience. The exhibition will feature fine art prints and different work by contemporary Black artists who work in various mediums such as street art, digital art, manga, paintings and more. The work showcases the talent of emerging diaspora artists.
If you're unable to visit the gallery in person, the Disrupt Space Arts app, developed by AR and VR specialists Octagon Studios, allows you to view the exhibition virtually. Through the use of technology, this innovative arts initiative provides you access to culture anywhere, anytime.
The Ideas Foundation, supported by the London Community Foundation, has helped with professional development and the creation and curation of the physical and digital gallery.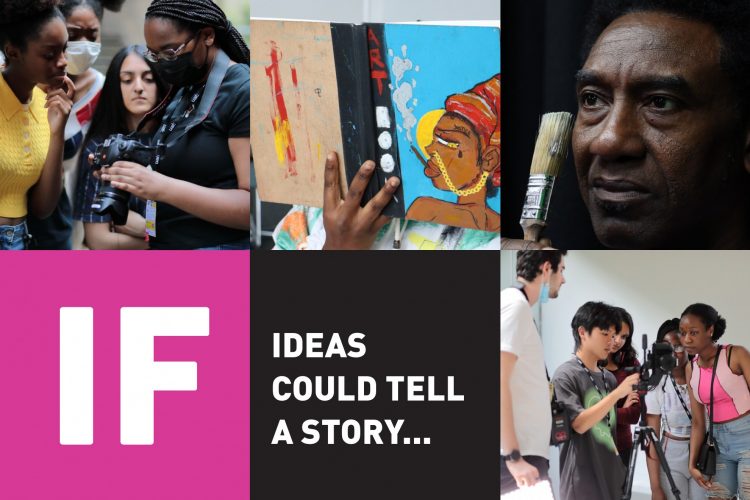 Ideas Foundation will also be displaying artwork created by students at IF projects throughout the year at the Department Store, Brixton on Saturday 28th. The exhibition will include prints from our recent Creative Media Camp with Canon, where students were set a brief to celebrate the Power of Hair through photography and video.
Ideas Foundation and Disrupt Space founding director Paul Reid have worked together with students at various workshops over the past year to give students the opportunity to work on a brief surrounding the BlakBoxArt exhibition.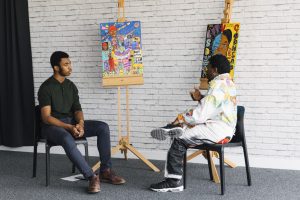 Last October IF partnered with Canon to host an industry day at The Global Academy. Students used video and photography to capture the stories of Disrupt Space artists Bryony Benge-Abbott, Gus Brooks-Simpson, Damel Carayol, Marlon Stewart and Lee White-Samuels.
During a virtual work experience week with advertising agency Engine, students were tasked with designing a TikTok campaign to promote Disrupt Space and their upcoming exhibition. Later, we challenged Global Academy's Year 12 students to design an outdoor campaign and a social media campaign that would encourage the public to visit the Disrupt Space gallery in Brixton.
Workshops such as these give students digital storytelling skills and demonstrate to them how technology can bring stories to life in marketing and advertising.
The BlakBoxArt exhibition is open to the public on 28th August (11am – 2pm) and 29th August (11am – 5pm)
Downstairs at The Department Store, Brixton, 248 Ferndale Road, London, SW9 8FR
Click here for tickets to the IF exhibition on Saturday 28th August, 2pm – 4pm
Read more about Disrupt Space and the exhibition here
To see the virtual gallery, download the Disrupt Space Arts app