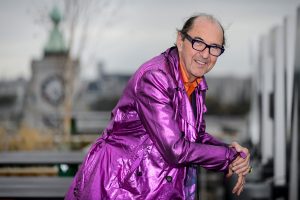 The Ideas Foundation is very pleased to announce that its founder, Robin Wight CVO, was named in the Queen's Birthday Honours list as a new Commander of the British Empire (CBE) for his services to diversity in the creative industries.
Robin Wight was a co-founder of the advertising agency Wight Collins Rutherford Scott (WCRS) in 1979 and was president of its parent company Engine until 2019.
He created the Ideas Foundation over 20 years ago, with a clear vision to encourage young people from ethnically and socially different backgrounds to join the creative industries, having seen that they were under represented.
Since 2000, more than 50,000 young people have attended creative learning sessions, facilitated by the Ideas Foundation, in schools and colleges in Cumbria, Leeds, Manchester, Somerset and London. These are supported by brands including Burberry, Canon, Nike, BBC, and ITV and creative input from leading agencies such as Ogilvy & Mather, Engine, Adam&EveDBB, BBH, Karmarama, and Saatchi and Saatchi.
Heather MacRae, managing director, comments: "This year we have assembled a creative advisory group, and I'm delighted to say it includes alumni of our programmes, who now want to give back to the next generation. Robin inspired many of those young people to follow their dream."
Diana Duah, an alumnus of the Ideas Foundation, now working as head of operations at MyBeautyBrand said: "I am so glad to see that the Ideas Foundation is thriving. Breaking down barriers and giving young people access to careers in the creative industries is so important in this current climate."
Ted Smith, chairman, says: "Attending a workshop run with the Northern Ballet, I witnessed young people growing in confidence and stature, realising that they had skills that could take them where they wanted to go. Robin has been recognised, rightly, for leading this fight and creating a foundation that concentrates on providing practical support and help for young people from all walks of life."
The Ideas Foundation is currently working on two projects with schools; Disrupt Space x Global Academy, with Canon and Burberry Inspire with the Burberry Foundation.
The Institute of Practitioners in Advertising (IPA) 2019 census says that 85% of industry jobs are taken by people from more privileged backgrounds. This doesn't add up for anyone. Ideas Foundation helps move the creative, tech and communications industries in a more diverse direction. By asking them to open their doors to students who don't normally get a look-in; students who may never have thought about joining the industry, yet are full of ideas.