Former Olympian and Creative Entrepreneur, Peter Bakare, is at Manchester College this week inspiring 120 Creative, Digital and Business students as they develop cutting edge ideas for a media campaign project for the Cancer Research Trust.
The brief for the project was created for Ideas Foundation by London's renowned Good Agency, who's USP is creating campaigns for high street charity brands.  The project itself is brought to the college as part of the Ideas Foundation's ground breaking Employability Bootcamp, which is unique to The Manchester College.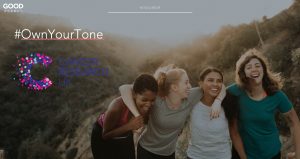 Peter's motivational skills are legendary.  Teaching himself from an early age the discipline and attitude to aim high, he was part of the UK Volleyball Team in the London 2012 Olympic Games. Since then, his creative skills have been honed as a scriptwriter on the popular 'Skins' TV show and most recently with the launch of his own digital games app and schools health & fitness programme, Nutritroops, which has been part funded by the Department of Education.  In addition to this, Peter is a World Skills UK international ambassador and UK World Skills Squad Trainer.
Students working on the project will be developing campaign ideas and live social media content to persuad their peers to care for their skin in the sun, under the  Cancer Research Trust's hashtage campaign #OwnYourTone.