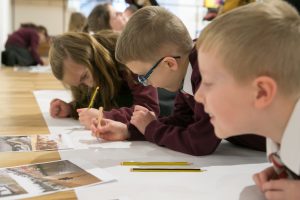 Manchester's cultural Godfather, the legendary Anthony H Wilson once said: 'This is Manchester, we
do things differently here.' The unique spirit of the city was recognised internationally in 2017 when the horrific terrorist attack during Ariana Grande's concert, sparked an unprecedented show of camaraderie and passion for the city's community and its inclusive values. We know from our work over ten years that Manchester and it's people are a positive force to be reckoned with and our work up close and personal with schools, colleges and creative and cultural employers bears this out.
Greater Manchester is the largest creative and digital hub outside London and a brief walk around Salford's Media City UK, or central Manchester's creative and dynamic Northern Quarter reflects the
the spirit of a city with the creative economy at its heart. Inclusive growth is at the top of Greater Manchester's economic agenda; and it is widely acknowledged that success will depend upon the city developing talent pipelines which reach into the many areas of deprivation and social challenge across the city.
Ideas Foundation is proud to have played a part in developing this pipeline of talent for the sector and to be bringing iconic brands and creative partners into some of the city region's most disadvantaged communities.
Throughout April we be shining a spotlight on our work in Greater Manchester and introducing our community of supportive local partners from both education and industry who are helping us to set
new benchmarks for creative employer engagement.