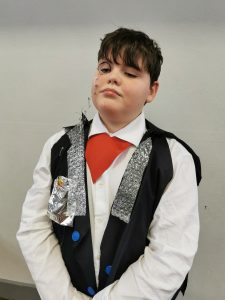 You wouldn't normally associate Burberry with the word rubbish, but this March young people in Whitby and Scarborough used household waste to invent their own Burberry classic!
The Burberry and Ideas Foundation team spent a week on the North Yorkshire Coast introducing students from Graham School, Caedmon College, Eskdale School and George Pindar School to the concept of sustainability in fashion. 350 students took part in workshops that gave them insights in to the problems with waste in the fashion industry and ultimately asked them to design their own classic fashion piece with support from student ambassadors from Teeside University, and a workshop on materials science with Dr Lorraine Coghill from Durham University.
Armed with magazines, glue and waste materials they first set about making mood boards before drawing up their designs. They were then tasked with making their outfits using only waste fabrics provided by Burberry and waste materials which they'd bought in from home, such as bubble wrap, plastic bottles and tin foil.
The highlight of the day was the catwalk celebration at the end. Students showcased their incredibly creative designs on a makeshift catwalk as their peers cheered them on. It was a truly inspirational week where creativity collided with sustainability to offer a unique and insightful opportunity to the young people of Whitby and Scarborough.