Boosting the creative curriculum with an inspiring ongoing programme….
We're proud to be working on a fantastic ongoing programme that opens up the world of digital design to schools in Manchester, Salford, Rochdale and Bury.
Cultural Digital Designers in Residence (CDDIR) is a project that brings together several partners with a shared vision – to developing collaborative projects that invigorate the creative curriculum in schools using university design students to get pupils involved.
Team CDDIR includes the following amazing agencies and organisations:
Curious Minds
Manchester Metropolitan University
The Comino Foundation and the North West Comino Creative Consortium of Schools
A number of leading cultural providers across Greater Manchester
And Ideas Foundation of course!
Working together in local schools
We pair up students from the Manchester School of Art with teachers in secondary schools within the local area. Student and teacher then work together with a cultural institution to devise a project that will bring digital design to life for the class. This could be anything from digital photography to digital applications for fashion and textiles.
Every project is different, but always inspired by the university student and teacher, and what will best suit the class in question. Typical projects run for a period of four to ten days.
Opening up the world of Graphic Design
In one of our 2018 projects we paired up a teacher and class of fourteen Year 9 boys at Abraham Moss Community School with student designer, Sara Merkaj. They worked together on the creation of digital self-portraits and had a series of careers sessions and lessons on the fundamentals of graphic design, including typography and image editing.
The end result? Pupils realised that careers in design / media can be as lucrative as more traditional jobs. This was a real revelation to them, and hopefully a revelation that will open up their career choices.
Getting out of the classroom is an important part of the programme
At the start of the project each class also visits a cultural partner – a great way to get pupils inspired early on and introduce them to what may often be a brand new experience. In our Abraham Moss project, only one out of fifteen Year 9 boys had visited an Art Gallery.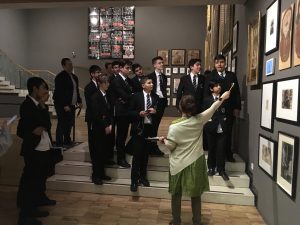 'The use of a cultural partner is a real intrinsic element to the project. A gallery like the Whitworth in particular has the environment (and for us a perfect critical reference) to drive the project. Getting out of the classroom and into these places is new and exciting, and the pupils particularly enjoyed the experience.' Teacher taking part in CDDIR
Classes also get to visit the Manchester School of Art, which proves a great way to introduce pupils to the idea of participating in higher education.
Curious Minds and Cultural Partners
Curious Minds are a charity dedicated to improving the lives of children and young people through great art and culture, so getting involved with the CDDIR programme was a natural fit for them. In the last 2 years they've been invaluable in getting cultural partners involved, something that really adds value to the experience for pupils.
Creation of a digital legacy
Each project culminates in the creation of a 'legacy piece' that demonstrates the achievements of the pupils, showcasing their collaboration with the Cultural Digital Designer. Parents and peers are invited to see the results of the programme. In 2018, some of these events took place in our partner cultural institutions, giving a great sense of achievement to both the class and the Designer in Residence.
And the legacy isn't just digital… Sara Merkaj, the student designer in the Abraham Moss project, went on to get a full-time job in the Outreach Office on completion of her MA. She told us that the experience she gained from the CDDIR programme directly contributed to her getting the job.
'The CDDIR project helped me progress into my current position at Manchester Metropolitan University. It was so important because I had to work within a school environment, and with pupils which I'd never done before, and that really helped me when I was being interviewed for this position in Outreach… it was a very important catalyst throughout the whole interview progression for me and I think it was one of the main points which then led to this job.' Sara Merkaj, Designer in Residence
A bright future for the CDDIR programme
The Cultural Digital Designer in Residence programme has been running for 6 years, and in the last two-year period alone, 18 classes in 7 schools have taken part – that's a total of 339 pupils getting digitally creative! And a total of 15 student designers have been involved. But it doesn't end there…
There's lots more on the horizon for CDDIR, with the 2019 programme already in full swing. Projects are in the pipeline with the People's History Museum in Manchester, the Museum of Science and Industry, Manchester Art Gallery, Bury Art Museum, and the wonderful Whitworth Gallery again. We can't wait to share more with you later this year.